Let us Build it to suit YOU.
Most of the units we build are custom made to suit the customer's needs. Here we will review the TOP 10 considerations when choosing your Steeltech Shed Unit.
1. What will You use it for ?
Is it for general storage , a work area, a play or recreation area ? We can create something for you , whatever your application. We can also create a single unit, divided into multiple use applications. (eg Partial Shed / Partial Office etc ) See Combination Units.
2. What size does it need to be ?
Will that size suit the space you have available ? Choose a shed size from our Supreme Garden Sheds in 2m and 3m widths , in any meter length. For larger sizes, we have our range of 4m, 5m and 6m Garages and Larger Heavy Duty Workshops. We also offer a full range of Greenhouses, Home Offices and Garden Rooms. We can give you a unit of the type and size , custom made to suit your requirements.
3. What Height do you need ?
Our Supreme Garden Shed range have an apex roof and a standard eave wall height of 2.1m. (also available in heights of 2.4m, 2.7m and 3m ) Our Garages , with an apex roof are available in Eave wall heights of 2.1m , 2.4m , 2.7m and 3m. Our 2m wide Pent roof units have a front wall height of 2.285m , down to 2.134m at the back , while the 3m and 4m wide units have a front wall height of 2.44m , down to 2.134 at the back. Our Larger Workshops have an apex roof and are available with an Eave Wall height of 3m or 4m.
4. Type of Construction
All our units have a galvanized steel framework and so is rust proof and requires no maintenance. Steeltech Sheds are CE Approved and conform to European Building Standards. We deliver and build the unit on your prepared concrete base and offer a 20 Year Guarantee.
It;s most important to consider what type of unit you actually require and how you will use it. We can then custom make your unit to suit
5. Cladding
The Steel Cladding is PVC coated and is available in a choice of colours. It is fitted in vertical orientation as standard , but can also be fitted horizontally. A woodgrain Steel Finish and a tilestlye roof are also available.
6. Internal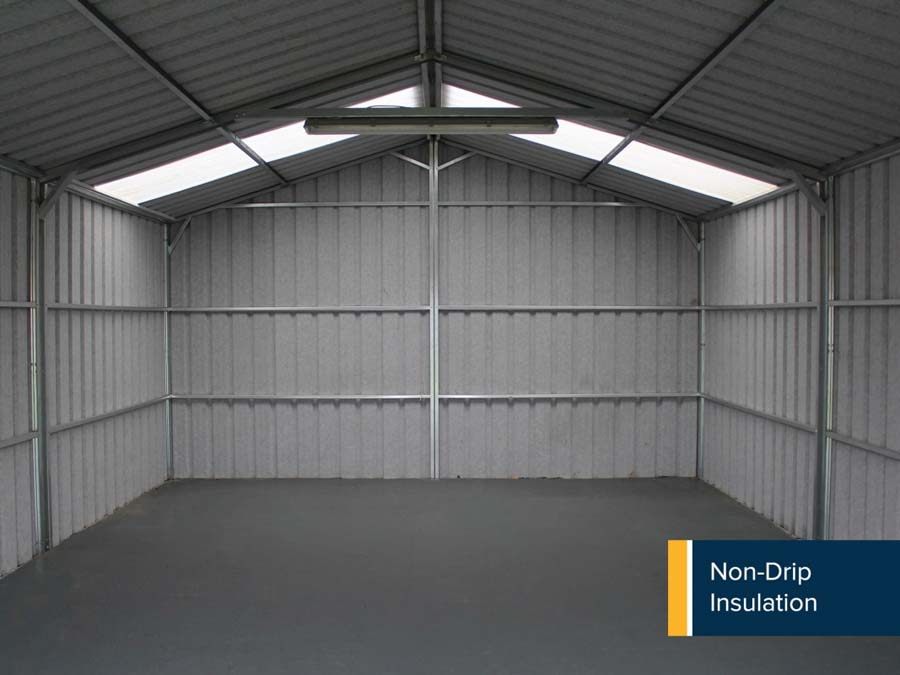 We offer 3 distinctly different type of cladding, applicable for different purposes , that give a different internal finish.
A> Non Drip: For General purpose storage applications, our Non – Drip coated sheeting will guarantee no accumulation of condensation. Normally, some clear light roof panels are fitted in these units. The cladding is coated internally with non drip fabric which gives a "furry" feel to touch. This is perfect for general dry storage appplications. eg …lawnmower , tools , bikes , garden furniture etc,
This barrier regulates Air Humidity , preventing water condensation forming on the metal sheeting and the potential damage it could cause.
The Barrier has both a high absorption capacity for condensation and fast de-absorption capability
The Anti condensation barrier provides good thermal insulation and sound absorption.
Sheds with the Non Drip coated barrier are sufficiently ventilated at the roof section to allow it to function as designed.
The barrier layer also has a high flame resistance (A2-s1 , d) EN 13501 – 1 )
Do Not Cover up Non Drip Coating
Do not install a non drip coated sheeting shed with the intention of insulating the shed yourself afterwards. The non drip fabric coating must be exposed to the atmosphere for it to work effectively. If you cover it up with insulation (eg insulation with ply board sheeting or plasterboard etc) it cannot "breathe" and while it will absorb and retain moisture its de-absorption capability will be compromised. After some time this trapped moisture will turn stale and will then emit an unpleasant odour.
B> 40mm Composite Panel Insulation : For better thermal insulation, 40mm thick composite insulated panel may be chosen. This composite panel gives a clean white or off white steel sheet finish to the unit's interior. It is possible to fit double skinned clearlight roof panels in these units. We offer this 40mm composite by 2 manufacturers.
Rex Composite Panel "Rex" Panels, have 40mm composite insulation and they have a flat exterior surface. We offer this in standard Goosewing colour only , with Woodgrain as an option. For Wall heights of up to 2.3m , these panels are positioned horizontally. On units with a higher wall height these panels are positioned vertically.
While the standard eave wall height on Supreme sheds and garages is 2.1m on Non Drip coated units, the eave wall height on 40mm composite panel insulated units is 2.3m
Kingspan Composite Panel : This , more expensive option, 40mm composite panel, is ridged (box profile ) on its exterior and is available in a choice of our 5 standard colours…..Green , Brown , Goosewing, Slate Grey and Mushroom. This is used on the roofs of all our composite panel units and on the walls of Higher units. This Kingspan Composite Panel Insulation is also available with greater Insulation thickness….eg 80mm Insulation.
7. Doors
Depending on the unit size and the purpose, a number of door options are available. Most of our garden sheds are fitted with a sliding pedestrian door as standard. This may be 0.9m or 1.3m wide. The advantages of a sliding pedestrian door is wide access and that it can be left partially open while not getting caught by a breeze. These doors are lockable with a padlock.
Sliding Doors are used only on Non Drip Coated Sheds. For sheds that are fitted with the 25mm Kingspan Panel Insulation, or composite 40mm insulation units, either a steel hinged door or a PVC hinged door are used.
Pedestrian Steel Hinged doors are also available. They Open inwards and have a secure 3 point key locking system. This door is also optionally available opening outwards, but in most cases we recommend the Standard Inward opening Version
Pedestrian PVC Doors are also available. These PVC doors are also available in either 1/2 Glass or full glass formats. Installing a PVC door with Glass may be a good alternative to fitting a window in the unit or for extra daylight.
When Wider pedestrian access is required, PVC French Doors or Sliding Patio type doors may be chosen.
For access to garages and workshops , a range of roller doors are available. The standard width roller door fitted is 2.1m and wider doors are also available. For comfort when using a garage for a car, we recommend a roller door width of 2.4m These doors are easy to open and close and wider larger doors may be motorized and open and closed remotely. For thermally insulated Garages, it is recommended that the roller door should also be an insulated one.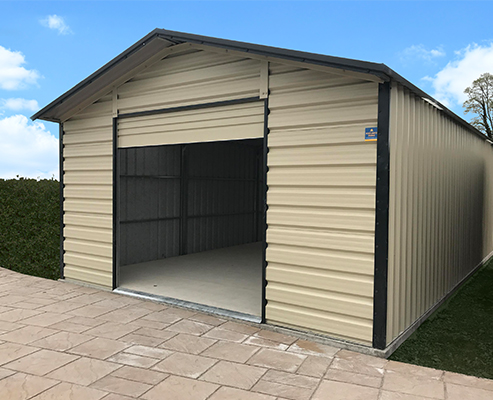 When a roller door is fitted to the end wall of the garage, its full opening height is achieved….as when the open door is coiled up it stores in the roof's apex space. However, when the roller door is fitted to the side wall, the coiled up open door stores at the top of the wall eave, so the access height will be reduced by about 18″ / 450 mm. For ease of driving a car in / out we recommend the 8′ wide (2.4m ) roller door. If required, Roller Doors can be motorized.
8. Natural Light
All non drip units and composite panel units have some clearlight panels fitted to the roof. These panels are not available on Kingspan Panel Insulated Units. A range of double Glazed windows from 18″ x 18″ to 4′ x 3′ and above are available, as well as full height casement windows.
9. Finishing Off
Gutters and Downpipes may be fitted to one or both sides . A range of Overhangs are also available.
Overhangs
Shelving
We can install either a double or treble row of solid steel shelving , which is suspended from the top of the shed's wall. These are very sturdy and are 8″ depth. They are ideal for storage and getting things up off the floor , allowing full access to valuable floor space underneath. This shelving can be fitted on either of the shed's sidewalls , but not on the gable ends.
10. Preparations before Installation.
We provide a detailed drawing for the required concrete base for your chosen unit. Electrical and plumbing services may need to be considered when installing the concrete base. The Steeltech Unit will be securely bolted to the concrete base. See more details on the Concrete Base here.
Please also consider the available access to your proposed shed location. Your shed unit will arrive on one of these mid size trucks and our installers will then carry each major section from the truck to the prepared concrete base. Please ensure that we will have clear access for this and also that there are no height restrictions.
When you purchase a Steeltech Shed, we will complete an order form with you and take a 25% deposit. If not already done, you may then have your concrete base installed. This will need to be installed about 3-4 weeks prior to the installation date. Once the concrete base is in ,you will need to notify us and then you shed will then be included in our installation planning. About 3-4 weeks prior to the installation, you will make a 50% Production Payment. On the date of the installation , once you are satisfied with the unit received , you will pay the 25% remaining balance.